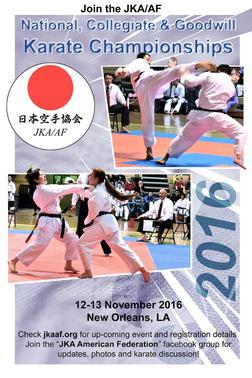 What a great success for our team this past weekend! We represented Maine strongly at the JKA/AF National Tournament in New Orleans, Louisiana. We got 8 golds, 5 silvers & 5 bronze. We are impressed and very proud of our new JKA Maine Team.
Results:
1st Place Men's Team Kata (Sensei Khim, Yuki & Michael)
2nd Place Youth Team Kata (Ben, Arianna & Mika)
1. Sensei Khim - 1st in Senior Men Individual Kata & 3rd in Men's individual Kata.
2. Sensei Ferdie - 3rd in Senior Men Individual Kata
3. Yuki Torres - 1st in Youth Black belt Kata & Kumite
4, Michael Umayam - 2nd in Youth Black belt Kata & Kumite
5. Tom Osgood - 2nd in Brown belt kata & Kumite
6. Bruce Luong - 1st in Brown belt kata & 3rd in Kumite
7. Ben Farris - 1st in Boys Youth Brown belt Kata & 3rd in Kumite
8. Arianna Ruiz - 1st in Girls Youth Brown belt Kata & Kumite
9. Mika Torres - 2nd in Girls Youth Brown belt Kata & 3rd in Kumite
10. Jen Madore - Competed in Women Black belt division
11. Darryl Farris - Competed in Men Intermediate division